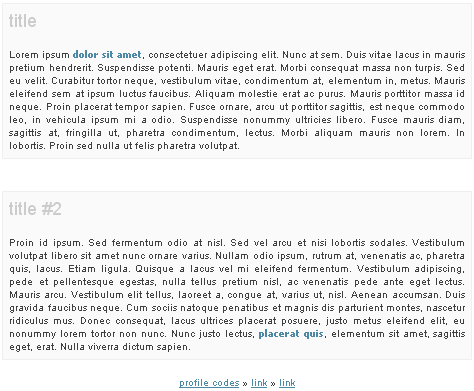 1. Go to your manage profile page.
2. Copy the below code into the Bio section.



3. Press the 'Save Changes' button at the bottom of the page. Feel free to edit the links, by adding the URL over the livejournal.com URL that is there now.

REMEMBER, FOR FASTEST RESPONSE TIME, ASK ANY SPECIFIC QUESTIONS CONCERNING THE LAYOUT ON THIS POST!



Commonly Asked Questions



How do I change the colour of the bolded words/links?

Find "#4B89A5" and replace it with any colour of your choice.

What's the code to bold words?



Because the code is so smushed, I'm having trouble editing it?!

I suggest using CTRL + F, then typing in "Title" or whatever you're trying to change to make editing easier.

May I edit the colours, fonts, etc.?

Sure, as long as you don't remove the credit!


A few things:
- A lot of people have been requesting a simple profile code, so here it is!
- There was a bug with the tiny user/community icons not aligning properly. This has been fixed in all layouts.
- Is there interest in new instructions on how to use the layouts with the Beta Customize area, or is everyone still okay?
- We have hit 3,000 members! Whoo.
- Mood theme coming soon.